Today we look at how to prepare fresh fish the French way. Surrounded by the Atlantic coast, Mediterranean Sea and many pure freshwater rivers, you really can't miss fish and barbecue here. So we dug into some recipes and tried something ourselves during our six-month group barbecue. Salmon 'troisgros' is a recipe from the famous French brothers, known from the TV series 'Chef Table France', in which fresh salmon and the herb sorrel surprisingly reinforce each other. Of course in combination with some French wine, French vermouth and fish stock. Check the recipe
HIER <
Fresh salmon and clafoutis also go well together. Definitely Mediterranean cuisine. A soft dough dish pairs beautifully with raw salmon. Read it HIER <
We are going to roll up and pickle the fresh salmon! And smoke gently over fire herbs, additionally provided with creamy cream cheese, fresh herbs and the kick of FRENCH MUSTARD! Watch our LIVE VIDEO to see our chefs take the steps, and below you can also read all the steps in detail. We got inpired by the recipe from maxdemeatguy.com, but we gave it our own, slightly less spicy twist with the French mustard from our products.
Do you think that goes together, mustard and salmon? Curious what you think. Be sure to show us your result on Facebook, Instagram or Pinterest and we'll share it among all fans.
YOU CAN'T GO WRONG. BE THE MASTER.
Ingrediënten
salmon fillet (1 piece of 1 kg)
1 lemon
Cream cheese, natural, 200 grams
Fresh curly parsley
Fresh dill
Cane sugar
Benodigdheden
Kamado or #weber barbecue
Coals, Not Just BBQ Firestarters, etc. for preparing your BBQ

1 Bowl to mix the cream cheese and herbs

Cutting board

Sharp knife

BBQ tongs

Butcher's rope
Bereiding
>> Watch the step-by-step how-to video recipe here << 
Quick recipe steps:
1. Start with a piece of skinless salmon that is at least 1 pound (reduce the rest of the recipe if you're using less).
2. We choose to give the salmon a dry 'brine'. Season the salmon generously with 1 part sugar and 2 parts coarse sea salt from the Not Just BBQ Seasalt grinder so that a generous brine layer is created. Really put a lot on it! This is an important step to start your smoking process. The salt draws moisture from the salmon and you will notice that it has a more tender and intense taste. This will give the smoky taste even more chance to have an effect on your taste experience. Variant: You can also make a 'wet' brine bath. For this you use the same amounts of sugar and coarse salt in a bath of water and put the fish in it overnight. Experiment yourself.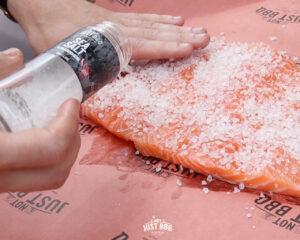 3. Wrap the fresh fish with butcher paper and close with butcher's twine. Then put the fish in the fridge overnight.
4. The next day, remove from the refrigerator, rinse gently with water and pat extremely dry.
5. Season the salmon lightly with a low-salt rub. We used the Not Just BBQ fishgrinder, because especially the fennel seed and dill seed and dill tops that are in these herbs are so good with this fish
6. Start your BBQ with our firestarters. Prepare the BBQ temperature to 110 degrees Celsius/225 F.
7. Meanwhile, make the filling: finely chop the jalapeño, dill or parsley and capers. Combine with juice of half a lemon, a little more of the Not Just BBQ fishgrinder and the cream cheese.
8. Spread the filling on the salmon.

9. Roll up the salmon and apply butcher twine lengthwise every 2-3 cm. Cut with a super sharp knife into slices about 5 cm thick.

10. If you want extra citrus flavor in your salmon, cut citrus like grapefruit, orange or lemon into slices and place on the grill, top with the salmon roll-ups.
11. Sprinkle the Not Just BBQ Fire Herbs de Provence between the smoldering coals and smoke (or bake at 110 degrees Celsius for about 30-45 min until the fish hits 50 degrees C internally.


12. Make a glaze of the Not Just BBQ Mustard & Smoke BBQ Marinade & Sauce and dilute with some water if necessary.
13. Top the salmon with a layer of glaze, and bring the internal temperature up to 60 degrees Celsius/130 F.
 
We also added roasted artichokes. Grease them with a little oil and place them whole on the grill, also add the EveryDay Grinder or Chilli Rub to your own taste and grill briefly next to the salmon roll-ups.
The leaves of the artichoke can be pulled off in no time, dip in a small dipping sauce of the Not Just BBQ Honey Mustard Sauce and vacuum the leaf. The heart of the artichoke is delicious to eat on its own or add it, sliced, to a salad.
Serve hot. Enjou!

Result salmon fillet roll-ups